Our Tree Service History
Robblee Tree Service in 1987
Twenty years ago, Stephen J. Robblee started Robblee Tree Service with one small pick-up truck, focusing on property maintenance in Rindge, New Hampshire. Over the years, the lawn maintenance portion of the business grew through referrals of satisfied customers and became the mainstay of the small local business.
Stephen Robblee 1989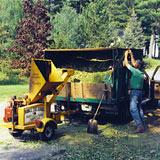 Stephen Robblee 1989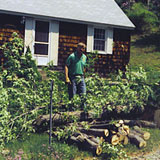 Robblee Tree Service in 1990
Stephen's eldest son, Andrew Robblee, learned to climb trees from his father and worked for Robblee Tree Service throughout high school and college.
Andrew Robblee 1990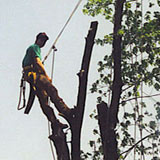 After graduation from the Thompson School of Applied Science in 1996 with an A.S. in Forestry, Andrew returned home to build the business and it became a partnership and LLC in 1997.

Andrew's interest focused more intensely on arboriculture and tree climbing, and in the following years the clientele base would rapidly expand in the tree pruning and removal portion of the business.

The tree business grew under Andrew's leadership, acquiring a new larger chipper and bucket truck.
Robblee Tree Service Today
Today Robblee Tree Service, LLC is based in Antrim, New Hampshire where Andrew and his family reside. This family-owned business is thriving in the supportive community of Antrim.
In the spring of 2007, the decision was made to sell the lawn care portion of the business and focus exclusively on tree care.
Our rapidly growing business is constantly welcoming new vehicles and equipment including a Grove Crane to aid in the speed and safety of large tree removals.
In 2008 the business purchased a commercial property at 114 Concord Street in Antrim.  With this purchase, Robblee Tree Service has expanded to now offer several forest products such as green and seasoned fire wood and rough sawn lumber.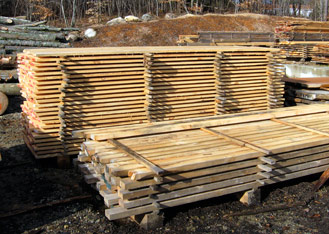 Robblee Tree Service, LLC expanded through the hard work and sweat equity of Stephen and Andrew.
Their attention to detail, friendly service, and reputation for fair estimates and quality work quickly spread throughout the Monadnock region and southern New Hampshire by word of mouth.