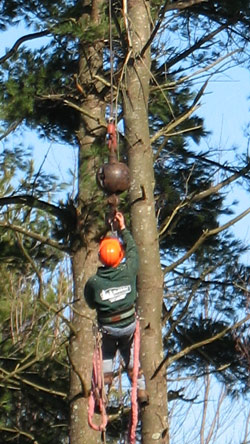 We are dedicated to environmentally safe approaches to tree care and land management using only proper pruning techniques, fertilization, insect control, and tree removal, when necessary, to improve the health, safety, and overall appearance of your property.
Robblee Tree Service LLC
P.O. Box 214
Antrim, New Hampshire 03440
New Hampshire Tree Service Experts
Robblee Tree Service Testimonials
"Thank you so much for moving the stumps to our play yard. The beautiful maple pieces have found new life here at the Center because of your efforts." 
Hi Andrew! Thanks for such a clean job. I have no idea how you maneuvered equipment onto our back property.
Many thanks for a job well done and also thanks for removing that birch tree also.  My Brother K, who also lives in Peterborough, drove up to the house and said it was a great job and looks great. 
"I wanted to tell you how happy we are with your work. The tree removal and trim work looks great.
We were surprised when you picked up all the fallen twigs and limbs from the lawn. We were thrilled to see that you used a blower to clear the rest of the yard and driveway of chips and dust.
We have had tree work done in the past, but never so professional and clean. We have picked up after the other tree trimmers and filled in our own stump holes.
Please feel free to offer my name and number for a reference. We would be happy to tell others how favorable you compare in both price and service!"